Ok, I'm a streak updating this site...
A little while ago (yesterday) I posted about how
IU is doing something right
, and I felt guilty about it and promised to come up with something showing how pathetic they are in the near future...
well, just when you think we'd have to wait for more high-comedy... another rat has jumped ship,
as Brandon McGee has now been booted from IU.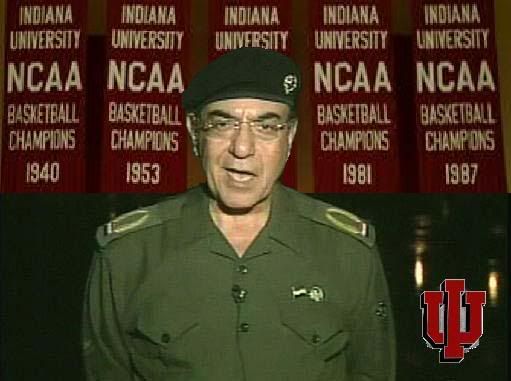 Lord knows if anyone is actually reading this, but if there is someone who is stumbling across this block of text, then someday an IU fan is bound to stumble across it... and they are probably wondering "Haven't we suffered enough!? Why are you picking on IU? blah blah banners blah..."
Its a fair question, and the answer is simple enough: No they haven't suffered enough.
This is a program who's fans were non-existent my first two years at Illinois (2003/04 and 2004/05)... but all of sudden once Mike Davis was fired, out of seemingly nowhere IU fans started to pop up and rant about the return to glory for IU and how the rest of the Big Ten should be shaking in our banner-less arenas because IU was back to pwn our asses.
Then they settled for Kelvin Sampson.
Then that little SOB Eric Gordon proceeded to lie to our entire fanbase for a summer, and stab us in the back. IU fans then laughed at us, proclaimed victory and the return of IU to its "rightful" place atop the Big Ten, where they would no longer have to deal with us unwashed peasants ever again.
They said Sampson was a great recruiter, he had learned from his "mistakes", and promised to bring fine, upstanding young men to Bloomington to represent Hoosier Nation.
Well, that was a wonderful fantasy, except Sampson wasn't requiring kids to go to class, overlooked countless team violations, and apparently did very little actual coaching (remember Eric Gordon's "he lets me do whatever I want" statement the week IU came to Champaign?). Not to mention he couldn't figure out exactly what NCAA calling rules were.
The result, he left IU in shambles... and as of today there are freaking TWO scholarship players left... (if you could former walk-on Kyle Taber)
the roster at IUHoosiers.com is hilarious: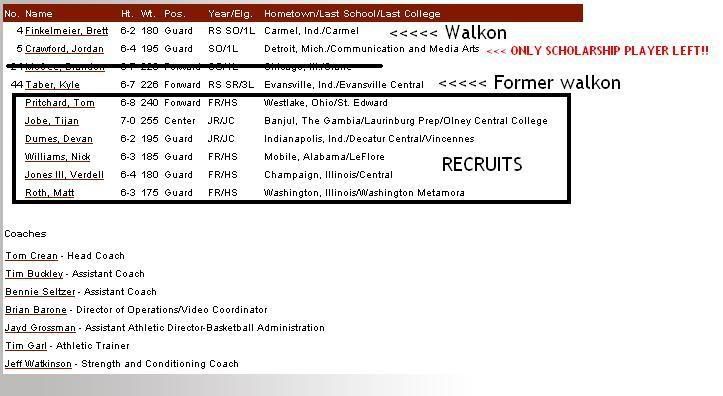 THREE freaking players with numbers next to their name... that because the rest of the 08/09 Basketball team hasn't even set foot on campus yet... IU has had to enter their recruits into the roster to make it appear less embarrassing than it really is. Only 2 players in the entire program have played NCAA basketball before.
Oh by the way.. there are at least rumblings that
Crawford might be gone soon too.. (purely speculation and unverifiable)
IU's lineup for next year includes ONE FREAKING PLAYER over 6'8"... 7 footer Tijan Jobe who averaged a massive 4 pts / 4 rebounds playing for OLNEY CENTRAL COLLEGE... (also, as a sidenote, NJCAA.org has his stats listed at 3 pts/game and 3.074 rebounds/game... but hey, IU needs to inflate their spirits somehow)
The funny thing is, the second Crean was even rumored to be going to IU, Hoosier fans were already starting to pat themselves on the back and brag about how "everything is going to be just fine"...
well, it might be, but its gonna be a few years... and until then, they better just learn to deal with the ridicule and chorus of laughter coming from the rest of the college basketball world, because Indiana is truly the laughingstock of NCAA hoops these days.... and the NCAA hearings have yet to come...
...although it should be noted: is there really anything left of the IU program for the NCAA smash up this summer? The NCAA could take away 5 scholarships and STILL not make IU shuffle its roster.
Don't expect much from the NCAA... there isn't anything they could possibly do to IU that their own hubris hasn't done to themselves.
My hope is that good kids like Matt Roth and Verdell Jones don't have IU fans turn on them... because given the way the "saviour of Indiana Basketball" Eric Gordon left Bloomington, I shudder to think what will happen when the IU fans don't realize their current situation is their own damn fault and turn on kids who are left after the Spring Crean-ing in Bloomington.