8 weeks until 2008:

7Weeks till Kickoff: Looking back at 2007
6 Weeks till Kickoff: Changing landscape of college football
5 Weeks till Kickoff: What needs to change about college football
4 Weeks till Kickoff: What to Worry about in '08
3 Weeks till Kickoff: Expectations
2 Weeks till Kickoff: Goals
1 Weeks till Kickoff: Rating our opponents
GAME WEEK: Predictions
This is Part 1 of an 8 part countdown to the 2008 season. Each week, I will rant on about my thoughts on various aspects of the upcoming Illinois season, the Big Ten, and college football in general. To make it more exciting on my part, I've created the 8 pages which will automatically post themselves at 10:30AM CT each Wednesday from now until 3 days before the Missouri game. So no matter what there will be new content on this page at 10:30AM each Wednesday... even if its a blank post. (note to self: quit being lazy)
This week: Recapping the 2007 Season.
The 2007 campaign was obviously a turning point for Illinois football. Going into the season, I was wondering if we could finally win at least 5 freaking games. Or better yet, win 6 games and somehow sneak into the Motor City Bowl. We faced a tough opening game in Missouri in St. Louis. Of our 6 home games, 3 were against the likely top 4 teams in the league, and our "easiest" opponents were mostly on the road, where we had won just 1 game in the previous 4 years.
So what do we do? We haul off 9 wins, throttle Minnesota and Syracuse in their houses, gut out memorable wins against Penn State and Wisconsin (the later to snap the longest winning streak in America), and beat Ohio State in the freaking horseshoe, giving the program its second BCS bowl berth ever.
For a program that has been up and down (mostly down) over the last decade, only Ohio State and Michigan have been to more BCS games (with Wisconsin also qualifying for two BCS games all-time). This is more a testament to the wacky roller coaster that's been Illinois football over the years than it is a statement of our power, but it speaks to our potential.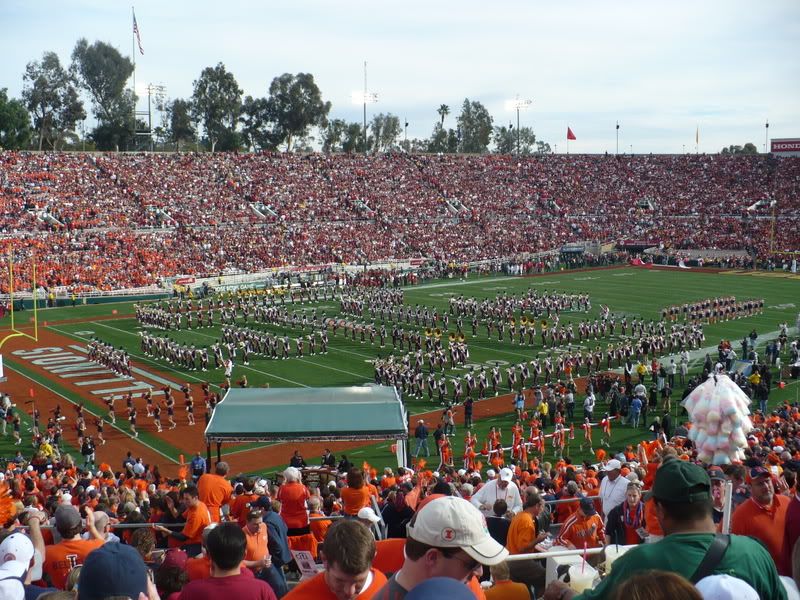 A lot happened outside of Illini Nation last fall. It was an up and down year for college football, and a bad year to be ranked #2. Here's the week by week run-down of the #1 and #2 teams in college football:
Week 1 - #1 USC and #2 LSU both win comfortably... nothing out of the ordinary here...
Week 2 - #2 LSU crushes Virginia Tech... USC sleeps in.
Week 3 - #1 USC beats Nebraska, #2 LSU smokes Middle Tennessee
Week 4 - USC and LSU win again... I promise this stops getting boring soon.
Week 5 - USC squeaks past Washington, LSU beats Tulane... THEN things get fun:
Week 6 - #2 USC lost to Stanford 24-23 on
possibly the play of the year.
LSU defeats Florida.
Week 7 - Upstart Kentucky
beats #1 LSU in triple overtime
, while new #2 California lost to Oregon State 31-28
due to QB stupidity
.
Week 8 - #2 South Florida (WHO!?)
lost to Rutgers 30-27
. New #1 Ohio State beats Michigan State 24-17 (more on South Florida and the landscape of college football next week)
Week 9 - #1 Ohio State beats Penn State, AND #2 Boston College managed to stage a late game comeback to prevent being upset by Virginia Tech...
they won 14-10 with both touchdowns in the last 131 seconds of the game
... pretty vanilla week all things considered.
Week 10 - #2 Boston College
loses to Florida State 27-17
... #1 Ohio State thumps Wisconsin (and in Minneapolis, Juice Williams has a pretty good day... not that that has anything to do with anything, or does it?)
Week 11 - #1 Ohio State, who had won like 200 straight Big Ten games,
loses to Illinois 28-21
... and I lost my voice. #2 LSU beats Louisiana Tech.
Week 12 - LSU, who is #1 AGAIN, beats Mississippi handily. #2 Oregon
loses to Arizona 34-24
and lost Dennis Dixon... putting them out of commission for the rest of the year.
Week 13 - as the Big Ten sat and watched #1 LSU
loses 50-48 (in triple OT AGAIN) to Arkansas
, and #2 Kansas (yes, Kansas went to a final four and a BCS game this year, something sounds odd about that eh?)
lost to Missouri 36-28
in Arrowhead Stadium.
Week 14 - Just when you thought there couldn't be any more chaos... #1 Missouri (don't worry, it only lasted a week)
got torn apart by Oklahoma in the Big 12 Championship Game
(this is why I don't like Championship Games) and #2 West Virginia lost to Pittsburgh. That's right...
BIGGEST GAME IN SCHOOL HISTORY AND YOU LOSE TO A 5-7 TEAM COACHED BY DAVE WANNSTEDT?!?
2007 was an absolutely crazy season. The rise of relative unknowns onto the scene defined the season. USF, a school that DIDN'T HAVE A FOOTBALL PROGRAM the last time Notre Dame won a bowl game, found itself #2 in the nation (and they were a pretty good team, just not THAT good). Traditional basketball powers Kentucky and Kansas jumped onto the scene, with the Jayhawks and Missouri playing perhaps the biggest game of the regular season. Hawaii had its best season ever (and with June Jones gone, a crummy stadium, and apathetic school administration, we won't hear about them again for a LONG time) and played its way into the BCS. Traditional powers like Notre Dame sagged. Michigan, the Domers, West Virginia and USC all had probably their most embarrassing loses in decades.
So where do the Illini fit into all of this? Clearly, Illinois followed the trend of non-traditional powers rising up. Unlike South Florida and Kansas, Illinois had SOME tradition to back it up. We have been here before, but in recent history (for the last 15 years) only for a fleeting moment. In the history of college football, Illinois finds itself in an odd place. Memorial Stadium stands as a reminder of a time when we were a national powerhouse. The place is a cathedral to the game, and in 1924 only a couple comparible facilities stood across the nation. Yet, over the decades Illinois has been up and down. It seems that more often that not, Illinois was either really good, or really bad. Teams like Hawaii and to some extent Kansas remind me of the 2001 Illini... a perfect storm where all the pieces came together. Kansas might have some staying power, but with a tougher Big 12 schedule this year, and Mangino "on a diet"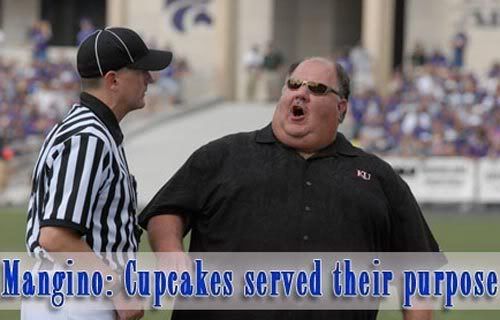 ... with respect to the non-conference slate, Kansas is really going to have to earn it this year. They will be a decent team, but I would be beyond shocked to see them in another BCS game.
With the Illini, things seem different. As I said last year, 2007 will be the most fun any of us will ever have watching Illini football. There were few expectations (more on expectations in 4 weeks). When the Illini played Penn State, Wisconsin, and Ohio State, they were able to simply play football. I think most Illini fans knew we had a shot in those games, but they were certainly games that no reasonable person could really be too upset about if we had fought hard and lost. Yet the team played their guts out, made plays they had never made in the previous 4 seasons, forced errors they had failed to force previously, and in crunch time, didn't break. Last year was fun. I will always maintain that last year's Illinois team over achieved. Some may see that as a negative comment, but I mean it sincerely. Last year's Illinois team was the product of recruiting classed ranked (from 2007 back to 2004) 20th, 28th, 45th, and 44th.... yet we beat the eventual national runner up and earned a trip to the Mecca of College Football. We were ranked as high as #13 in the nation.... and we did it with senior leadership and underclassman talent. In 2001 there was a feeling that all the pieces had come together, and Illinois ran to a Big Ten title. In 2007, it was an Illini team that seemed ahead of schedule. The most pointed criticisms against Ron Zook revolve around his supposed lack of coaching ability, the inability of Zook to get the best out of his players. Critics argued that Zook would eventually be able to assemble enough talent to win, but that he couldn't get his players to play up to or beyond their potential. Last season serves as a resounding argument against that logic. My prediction going into the season was that we would win 1 game we had no business winning, and lose 1 game we had no business losing. We certainly got "Zooked" at Iowa, and the Ohio State game will for decades stand out as one of the greatest wins in school history.
People will always ask, did Illinois deserve a trip to the Rose Bowl? Its a loaded question. I think its safe to say Illinois wasn't one of the top 10 teams in the nation, but thats not how BCS bids are chosen. I think Missouri clearly got screwed by the BCS (more on that in 2 weeks in "What needs to change about college football"), but its not our fault they didn't make a BCS game, the system failed them. Within the framework set forth by the BCS, I think its safe to say Illinois deserved its Rose Bowl nod. If Illinois didn't go, who would have gone? Boston College (ranked below Illinois) and Arizona State are the only two real contenders, as the Big 12 and SEC had 2 teams chosen already. The ACC was awful and really didn't deserve two bids, while Arizona State got clowned by #17 Texas in the Holiday Bowl, justifying Illinois' pick (and the Rose Bowl could not have chosen Arizona State anyways). Most years a 9-3 Illinois team probably wouldn't be a BCS contender, but last year wasn't an ordinary year. The Rose Bowl was between two mismatched teams that earned thier lots. Illinois, by overachieving and winning big games against Wisconsin, Penn State, and Ohio State... Southern California by choking on Stanford (and clearly not deserving Championship consideration).
With all the up and downs, 2007 is going to be a tough year to repeat. A cursory glance
at some of the preseason predictions
seems to indicate that the "experts" seem to think it could be another wild year, with some of the traditional powers struggling (or at least not up to par) and some new(er) faces in the Top 25 (Wake, Cinci, USF, Fresno State, BYU are all names to remember, on top of The Beloved).
With all the "change"... the top of college football in 2007, and likely again in 2008, remained the same. LSU and Ohio State are teams that have been at the top for years. USC, Texas, Georgia, Oklahoma and Florida will all be big names again this season. Illinois has cracked into being respectable, but we have a long ways to go to truly be a titan in the college football world. There will be ups and downs, we may not have a repeat of 2007 this year, the schedule isn't exactly favorable, but we will have a competitive team. We might not get some of the breaks, or make some of the plays, that we made in Champaign last year when it comes time to travel to Madison or State College.
Either way, it should be a fun year, the most important step is putting out a team that you know is capable of winning any game, and that is what we had last year.
Recapping 2007: Weeks 1 and 2
---
Week 1:
Illinois (0-0) vs. Missouri (0-0 entering game, would finish 12-2, 7-1)
The State Farm Arch Rivalry Series
Loss 40-34
(Edward Jones Dome - St. Louis, Mo. - 62,352)
FI.com
-
Video
-
Box Score
2007 was a season where Illinois football changed. Despite an early lead off a blocked punt, the season started where it had left off in 2006. Missouri ran roughshod over Illinois in the first half in St. Louis, Juice was sent off with an injury, McGee fumbled the ball twice, and Missouri moved down field with impunity. A fumble on the goal line, a fumble after a kickoff... the same crap we had been watching for the last half-decade reared its ugly head again. We were down 23-6 at the half, we were down 37-13 with 6:11 to play in the 3rd quarter. Yet another blow out... in the stands it felt like the optimism we had for 2007 wasn't going to make it past Labor Day.
Then... we kept playing. McGee threw to Joe Morgan for a 15 yard gain on 3rd and 19 from the Illinois 28, and Illinois marched down field for a touchdown. 37-20. Missouri tried a reverse, fumbled the ball, and on the very next play McGee found Kyle Hudson streaking for the endzone. 37-27, which would be how the 3rd quarter ended. Early in the fourth Chase Daniel coughed up the ball (controversial call, it very well could have been ruled incomplete) and Illinois scored after recovering the ball on the Missouri 4 yard line. 37-34. A Missouri field goal and a couple punts set up the drive that unfortunately wasn't to be. Eddie McGee got Illinois all the way to the 22 yard line of Missouri before throwing an interception to Corneliu Brown on the goaline with under a minute remaining.
Missouri won, but Illinois managed to save themselves.
---
Week 2:
Western Illinois (1-0, would finish 6-5, 3-3) @ Illinois (0-1)
Win 21-0
(Memorial Stadium - Champaign, Il. - 48,301)
FI.com
-
Video
-
Box Score
In week 2, Illinois opened up its home campaign (and the new North Endzone) with a 21-0 win over FCS Western Illinois. Offensively, Illinois was, well, pretty sad. Juice had a rough day, failing to throw the ball well, and Illinois didn't even get on the board until the second quarter, the result of a 32-yard scamper by newcomer Daniel Dufrene. Illinois did produce 400 yards of offense, but only 3 scores (Mendenhall, Dufrene, and Juice, all on the ground). The passing game was a sad 12-26 for 123 yards (Williams 12-24 for all 123 yards and 1 INT). Given how smooth Eddie McGee was in the pocket vs. Missouri, Illinois fans were getting restless.
The Illinois defense, however, put on clinic. WIU was held to only 152 yards of offense, and only completed 4 first downs. WIU managed 2 first downs on their opening drive, and only reset the chains twice during the game, with less than 4:00 to play in the first half, and with 6:30 to play in the game. WIU only threatened to score twice in the game, right after halftime when Walter Mendenhall fumbled a short opening kick on the 36 yard line (Illinois, specifically J Leman, stopped WIU on 4th and 1), and late in the fourth quarter when WIU missed a 38 yard field goal to preserve the shut out. It was the first time since a 31-0 blanking of Iowa in 2000 that the Illini had shut out an opponent.